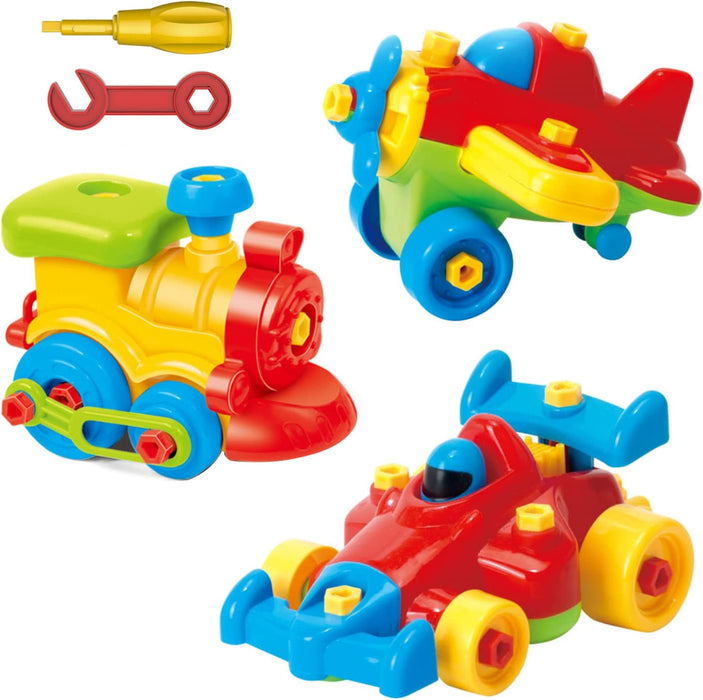 Take Apart Toys Set - Airplane Toy - Train Toy - Racing Car Toy, For Kids - Stem Learning Educational Construction Tool Engineering Set Toys For Boys & Girls Ages 3,4,5,6 Years Old And Up, Great Gift
Vehicle themed take apart toy: Do you wish your kids played more with actual toys than with video games? Get them this set of three take apart toys and they'll never want to play with your tablet again! The building toy set consists of a take-a-part airplane, a take-a-part train and a take-a-part racing car. The play set is ideal for both boys and girls.
An educational building play set: The take-a-part toys are a very creative and educational pastime for your kids. The game set helps children learn and improve their problem solving skills, hand-eye coordination, and fine motor skills all while playing! This construction engineering building game will bring out the genius in your child!
Endless fun for your kids: The take apart vehicles have little rollers on the bottoms of their feet so your child can push them around for hours. Trust us, any kid would love the toyvelt take-a-part toy, that's why it is such a great gift idea! So if your child is 3 years old and up, get them this awesome building game set!
Your children are totally safe: Here at Toyvelt your kid's safety is our number one priority. For this reason, We've made sure the material of the take-a-part train car and plane are completely nontoxic and safe, So it's ok if they put the toys in their mouth. Plus, there are no sharp or pointy edges so your kid's hands, lips and tongue won't get cut.
Your satisfaction is this creative building toy set includes a takea-part airplane, a take-a-part sports car and a take-a-part train, along with two screw drivers and multiple screws for the construction. If for any reason you're not satisfied with this educational and fun game set, Toyvelt will help you.