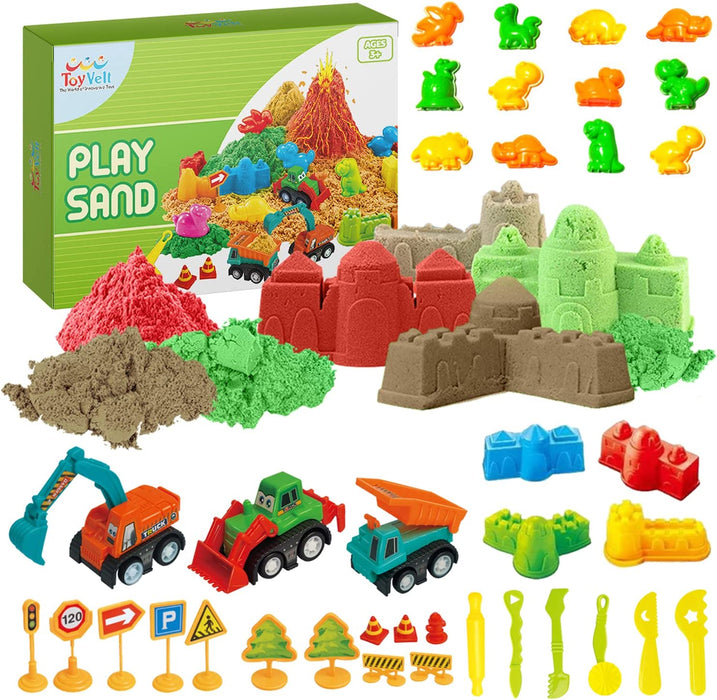 Toyvelt Sand Toys for Toddlers - Dinosaur Play Sand Kit Includes, 3 Lbs Sand, 3 Trucks, Dinosaur Sand Molds, Tray, Modeling Tools and Accessories for Boys and Girls Ages 3 - 10 Years Old
Unleash your child's creativity with a one-of-a-kind sand play set that comes with dinosaurs, castle molds, and other great building projects.
Are you looking for the ultimate gift to get your child playing, having fun, and using their hands to build, create, and learn? Then look no further than the[Toyvelt] play sand setThat comes with dinosaur figures, 2d dinosaur molds, and 3d castle molds to let them make endless beaches, homes, and jurassic park style adventures in their own home!
Our premium sand is designed like a moldable clay that only sticks to itself and lets children stack, build, stretch, and shape it in hundreds of fun and exciting ways. And because it comes with a variety of great toys they can use to make and re-make new environments, it offers fun for boys and girls alike.
The perfect holiday gift this season, get it for birthdays, christmas, or just to help keep them learning and inspired every day!
Product details:
Molds, stretches, and stacks with no water
No messy, sticky residue or sand
Only sticks to itself
Safe, non-toxic
Indoor or outdoor play
Kid friendly fun: Ages x and up
Three (3) sand colors
Adult supervision recommended
Order includes:
Play sand (3 250g bags)
1 Sand tray
3 Sand trucks
10 3D Dinosaur sand molds
4 3D castle molds
7 Tools
12 Accessories
Click 'add to cart' to get this premium sand play set complete with dinosaur figures and castle molds to give your child endless hours of fun and enjoyment!
Complete play sand kit – Every moldable set includes 3 bags of colorful play sand, sand tray, 10 dinosaur molds, and 4 castle molds, 3 Trucks, 7 Tools, and 12 accessories  to create exciting adventures.
Moldable, stretchable sand – Like magic clay for kids, the sand sticks together without water and never dries out to create stackable 3d castles, walls, and more!
Fun Dinosaur Figures – Children can stomp through their sand-filled worlds with 12 2" dinosaurs that can use to create their own environment or unique wildlife theme.
Versatile 2D and 3D Molds – Kid's will also love creating 2D dinosaur molds in the sand or stacking up tall 3D castles their dinosaurs can live in or crush like giants.
100% Customer satisfaction - We make customer satisfaction our top priority. This is why we take the time to make our sand toys both safe to use and incredibly fun. We're confident that you and your little one will love this play sand which is why we offer a customer satisfaction so that you can order today with confidence.