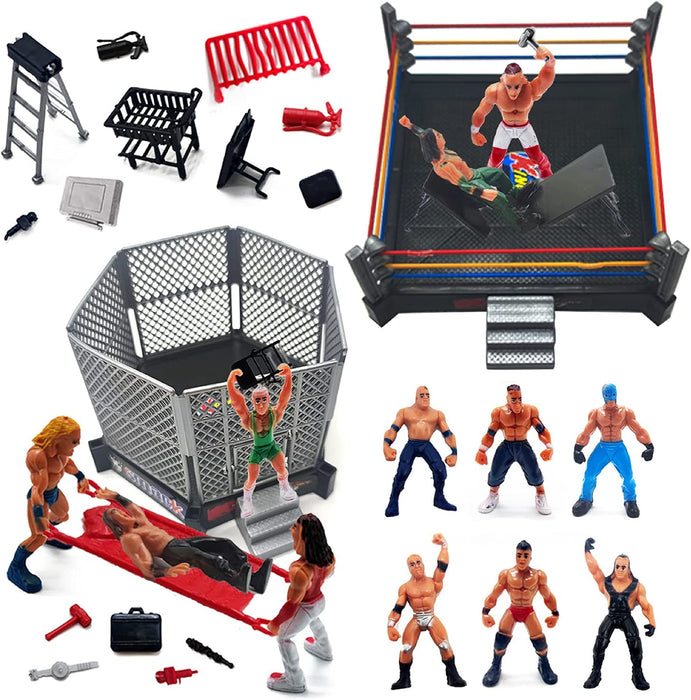 ToyVelt 32-Piece Wrestling Toys for Kids - Wrestler Warriors Toys with Ring & Realistic Accessories - Fun Miniature Fighting Action Figures Includes 2 Rings - Great Gift for Boys and Girls
Are you ready to rrrrrumble? - Discover the all-inclusive 32-piece toys set for children and offer your boy the ultimate miniature wrestling playset! The toyvelt action figures kit will help your child enjoy endless hours of wrestling fun!
Just want some...Come get some! - Our 2"realistic wrestlers, 2 rings (one 4-sided and one 6-sided) combined with the multiple realistic accessories,such as barricades, ladders, tables and trash cans will add to the overall experience!
What are you going to do? - When wrestlemania hits you? Surprise your little wrestling fan with the all-in-one mini wrestling playset today and offer him a unique birthday, thanksgiving, christmas or holiday present!
Designed for epic wrestling matches! - Our sturdy wrestling rings, accessories and action figures are made from non-toxicand bpa-free plastic, which is not only safe for your children, but also extremely durable.
100% Satisfaction! - We know our quality and know that you will satisfied with this, if not will Satisfy you customer priorty first.