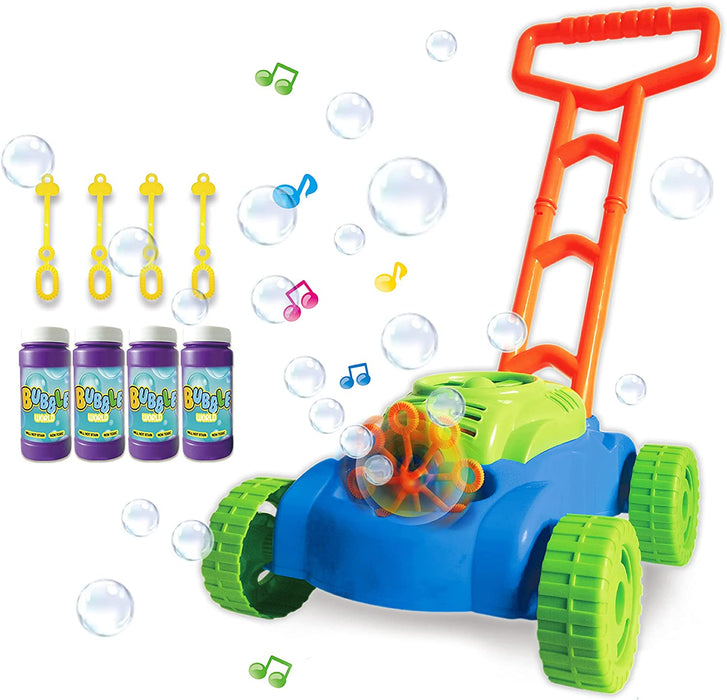 ToyVelt Bubble Lawn Mower for Kids - Automatic Bubble Machine with Music Sounds Best Toys for Toddlers Plus 4 x Bottles of Solution & 4 x Sticks - for Boys & Girls Ages 3 -12 Years Old
Get ready for bubbles overload: Does your kid like bubbles? Who doesn't? The toyvelt bubble mower for toddlers is here to blow more than 1,000 bubbles per minutes and help fill your kid's room, living room, garden or backyard with thousands of adorable floating bubbles! Stop blowing bubbles by hand and take your bubbly fun to the next level!
Blow, chase & pop bubbles anywhere: When it comes to portable bubble toys for kids, our bubble toy mower stands alone. You can easily use your bubble lawn mower both indoors and outdoors, since it will work on both grass or carpet. Your toddler will be able to enjoy endless hours of pretend play fun and chase bubbles all over the back yard.
Develop essential skills while playing: Our educational and age-appropriate bubble toy for kids is specially designed to stimulate your kid's imagination, creativity and help develop essential skills, such as hand-eye coordination, fine motor skills, problem-solving skills, communication skills and social skills - All that while playing!
Spoil your little gardender today: If you are looking for a special birthday, christmas, name day, thanksgiving or holiday gift for your son, daughter, niece, nephew, grandson or granddaughter look no further! Our bubble machine toy comes with 4 x bottles of bubble solution and 4 x bubble blowing sticks, which is ideal for playdates!
100% Satisfaction! - We know our quality and know that you will satisfied with this, if not will Satisfy you customer priorty first.