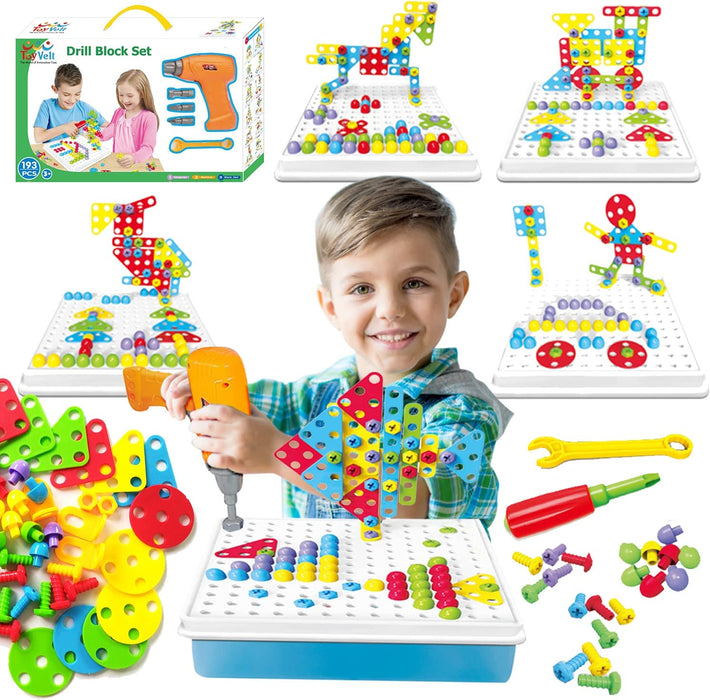 Toyvelt Building Block Games Set with Toy Drill & Screwdriver Tool Set Educational Building Blocks Construction Games Develop Fine Motor Skills - Best Kids Toys for Boys & Girls Age 3 - 14 Year Old
For smart kids & worry free parents...
Toyveltbuilding block set is the way to go! 
Looking for...The most challenging yet fun toys?. Toys that is suitable for both girls and boys? Educative games to keep your preschoolers entertained? High quality blocks ready to withstand everyday tear and wear? Nodding, right?
Dear mamas and papas! No more worries because today is your lucky day! 
Presenting the coolest and most multipurpose building toy set. Learning time is fun time again! Withtoyveltbuilding blocks! A durable plastic craftsmanship, easily washable nature and colorful patterns all combined, make these building blocks an absolute must have addition set to your kids' toys arsenal. 
All in One Set
With over 190 pieces, this 4 in 1 construction engineering block set will be loved by all. Let your kids grasp blocks, take apart pieces, use the screw driver, build a new 3d world, create arts and crafts, puzzles, and have some fun. 
Endless Entertainment
Not just an entertainment toy set but so much more! Use it to improve hand to eye coordination and fine motor skills promote better mental stimulation and critical thinking ameliorate language, mathematical and spatial skills encourage positive social interaction, sharing and cooperation facilitate divergent problem solving enhance creativity and boost imagination. 
What are you waiting for?
Get your building block set today, before we run out of stock again. Scroll up & click add to cart now!
Each building block set includes:Many take apart blocks in various colors and shapes, an electric drill, a screw driver, and 3 different shaped screws. All of them are nicely packed in a plastic container for hassle free storage and transposition. Each stem learning blockset has a total of 193 pieces. More blocks, more options, more constructions, endless funfor your little ones! Assemble and take apart in secs!
Create your own 3d world:Do not compromise with toys that suppress your kids' imagination and mental development. Invest in this highly educational building block set and find your peace of mind again. Help your kids become more imaginative and creative. Teach them about different colors, shapes, and how to build a whole 3d world right here in their bedroom. With toyvelt construction blocks by their side.
Enhance logical thinking & problem solving: Engage your kids into interactive playing, facilitate their cooperation with other kids and boost the feelings of sharing. Ameliorate hand to eye coordination, help them develop fine motorskills, promote logical thinking and aid in problem solving to the fullest. Keep your kids busy and entertained for many hours. No more nagging. No more complaints.
Make the most thoughtful gift ever: Searching for the greatest, most interesting yet not boring at all building toys for your kids? Search no more! You have just found the greatest construction blocks for them. Surprise your little ones or givethemost educative party favors to their friends. Great for birthdays, holidays, special occasions and more. Trigger their creativity and let them unleash their imagination.
100% Satisfaction! - We know our quality and know that you will satisfied with this, if not will Satisfy you customer priorty first.