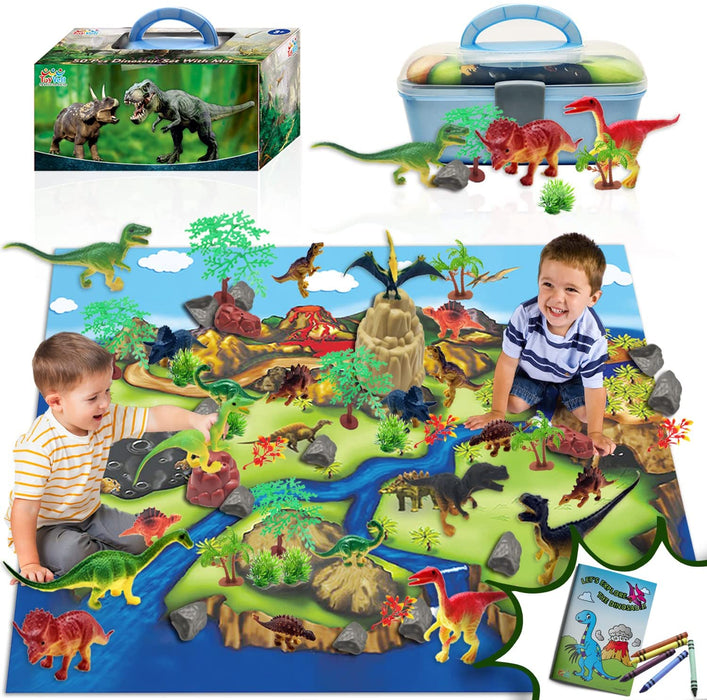 Toyvelt Dinosaur Play Set Dinosaur Toys Includes Dinosaur Figures, Trees, Rocks, Playmat, And A Beautiful Container Create A Dino World Great Gift For Boys & Girls Ages 3,4,5,6, And Up Updated Version 2021
😊KEEP YOUR LITTLE ONE'S HAPPILY BUSY! - Are your kids glued in front of gadgets? Then give them the chance to spend long play hours exploring the dinosaur world with a full 50-piece Dino play mat set! Create an amazingly realistic dinosaur collection inclusive of hand-painted walking dinosaurs with moving jaws, such as a glorious T-Rex, Triceratops and Alamosaurus, this will definitely thrill any dinosaur lover! LARGE dinosaur figures of all types ensure safety for kids to avoid choking.
💲TREMENDOUS VALUE PACK! - Ready to use straight out of the box, this interactive stem toy play set includes ALL your kid needs for their dinosaur play! Included this set is 20 dinosaur action figures, together with 29 trees & rocks AND an eye-catching map that will help hone their exploring skills, and a spacious storage container! This will definitely help the whole family to spend some quality time together, joining forces over an inspired dino exploration!
💡LEARN WHILE THEY PLAY - Help your kids develop their imagination, patience and perseverance with our wonderful construction toy made for dino enthusiasts! This is an excellent educational sensory toy that will teach your children cooperation with friends and will keep them creatively entertained in their own room, Our set is an amazing dinosaur simulator set for children's room, the playground or the school, and will help create adventurers on holidays or a rainy weekend!
㉉SPOIL A LUCKY KID! - Our amazing dinosaur toy set for kids makes the perfect gift, our attention to detail and the realistic moves will certainly immerse your kids in play. Made from BPA-free non-toxic plastic, this playset is the ultimate gifting idea! Offer it to any little paleontologist and enjoy their ear-to-ear smiles! It is a perfect birthday, Christmas, holiday or impulse gift for boys and girls that love dinosaurs! Or it will make a great part of your dino themed party décor!
💰YOUR 100% SATISFACTION IS GUARANTEED! We guarantee your complete adventure time satisfaction upon unwrapping our stunning 50-piece realistic dinosaur package! We take great pride in the quality of our product, this is why we back it with a 100% MONEY BACK GUARANTEE, for your peace of mind. In this way, we are making your shopping.