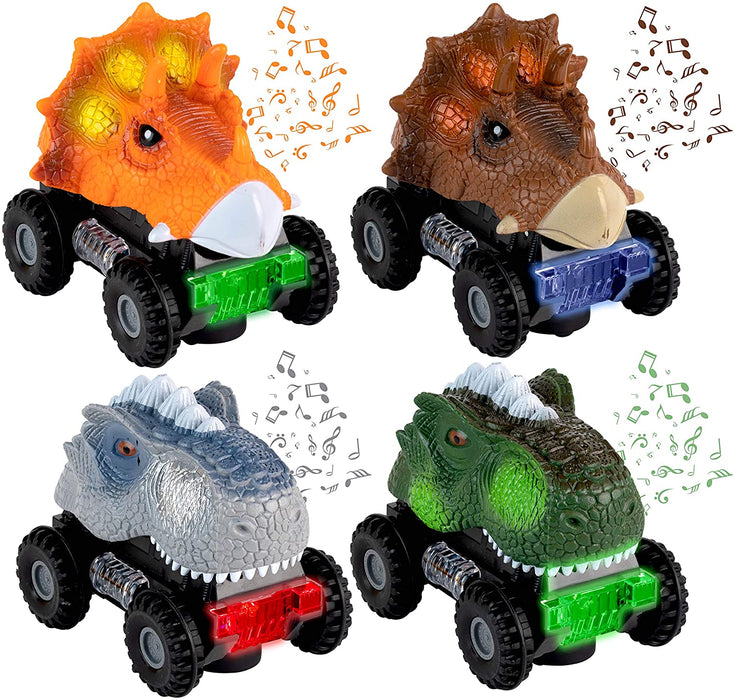 ToyVelt 2021 Edition Dinosaur Pull Back Cars Toys for Kids – 4 Pack Cars Fun Dinosaur Car Set with Exciting Lights, Sounds - Birthday, Christmas, for Boys and Girls Ages 3-10 Years Old
Discover A Whole New World Of Racing Fun With The Ultimate Dinosaur Pull Back Car Toys!
Does your child love dinosaur games or dinosaur cars?
Is your little one always looking for new car toys?
Do you want to surprise your son or daughter with an exciting birthday present?
Introducing The ToyVelt Dinosaur Pull Back Racing Cars Set For Kids!
Who said that racing cars always have to be... cars?
Now you can combine two of your kid's favorite things; fearsome dinosaurs and speedy race car toys with the ToyVelt pull back car set for toddlers!
Leave all those boring toys and games behind you and buckle up for the most awesome race!
Top 5 Reasons Why Kids (And Parents) Love Our Dinosaur Toys:
🦕 Kid-Safe Design: made from premium materials with great attention to detail, our dinosaur cars are 100% safe for toddlers.
🦕 Most Popular Dinosaurs: get 2 x realistic T-Rex toy cars and 2 x Triceratops toy cars that will impress every tiny paleontologist.
🦕 No Batteries, No Problem: save money on expensive batteries with our no-battery pull back car design. Just pull back and let go!
🦕 Lights, Sound, Action: as if the fun dinosaur heads were not enough, we've added epic lights and exciting music to take your races to another level.
🦕 Fun Indoor And Outdoor Toys: the big tires and sturdy design make these dinosaur toys ideal for both indoor and outdoor races.
Need More Reasons?
🎁 Amazing Gift for 3 Year Old Boy, Perfect Gift for 4 Year Old Boy, Great Gifts for 8 Year Old Girls and Boys
✅ On/Off Button - Perfect Size: 5" H x 4.5" L x 3.5" D
💯 Signature ToyVelt Quality
Click "Add To Cart" NOW Before We Run Out Of Stock... Again!
🦖 ROARSOME PULL BACK CAR TOYS FOR TODDLERS: It's time to surprise your little paleontologists and offer your kids the opportunity to enjoy endless hours of Jurassic fun with the ToyVelt ultra-fun dinosaur toddler toys!
🦖 NO BATTERIES REQUIRED - JUST PULL BACK & GO: Your kids will be able to enjoy these stunning dinosaur toys for kids 2-4 anytime, anywhere, since they require no batteries or electricity. Just pull them back and release them!
🦖 GET READY FOR EPIC DINO-RACES WITH LIGHTS & SOUNDS: Perfectly sized for tiny hands, our 5" x 4.5" x 3.5" dinosaur car toys feature big tires for every surface, eye-catching lights, and engaging sound effects that will enhance your experience
🦖 SUPER-FUN DINOSAUR GIFTS FOR BOYS & GIRLS: Is your son, daughter, niece, nephew, grandson, or granddaughter fascinated by dinosaurs? Offer him/her a fantastic birthday, holiday, Christmas, or Easter gift today!
🦖 STURDY DESIGN FOR EXTRA DURABILITY: Unlike other flimsy dinosaur toys for toddlers, our pull back car toys for boys 3-5 years old are made from strong materials that can handle the daily wear and tear of active toddlers (or even meteors!)