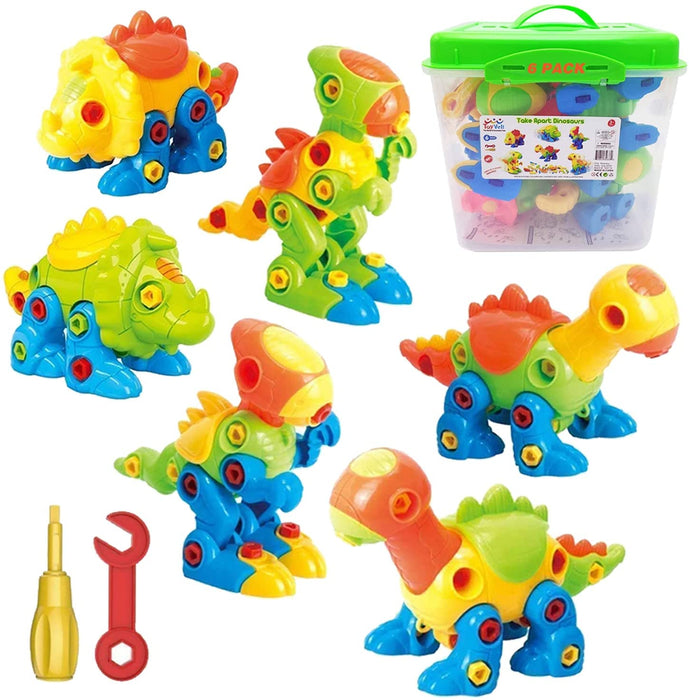 ToyVelt Dinosaur Take Apart Stem Toys for Boys & Girls Age 3 - 12 Years Old
Product Description
LOOKING FOR A FUN & EDUCATIONAL ACTIVITY FOR YOUR KIDS?
Want to help your little engineer enjoy endless hours of building fun?
Need a special birthday or Christmas present for your son or daughter?
PRESENTING THE TOYVELT ULTIMATE 218-PIECE DINOSAUR TAKE APART TOY SET WITH TOOLS!
Build epic colorful dinosaurs, take them apart and re-assemble them with the ToyVelt premium dinosaur take apart toys with tools, which are specially designed to keep your son, daughter, nephew, niece, grandson or granddaughter occupied and entertained for hours!
AND THE BEST PART?
Our STEM toys set includes 218 different pieces that will help you build 6 different legendary dinosaurs!
PERFECT TAKE APART SET FOR YOUR LITTLE BUILDER!
Now you can make sure that your little angel spends less time watching TV or playing videogames and more time developing real-life skills with the ToyVelt educational take apart toys for boys!
2 KID-FAVORITE TOYS IN A SINGLE BOX!
If your kid loves dinosaurs and construction toys, then this 2-in-1 take apart STEM toys set for 4 year-olds will dazzle your little one!
WHAT YOU GET:
6 x Colorful Screwdrivers

6 x Colorful Wrenches

6 x Take Apart Dinosaurs

206 More Colorful Pieces For Endless Building Fun

A Beautiful Storage Container
SUPER-EASY TO ASSEMBLE!

When it comes to age-appropriate and kid-friendly STEM toys for toddlers, our easy-to-assemble dinosaur take-a-part set with tools stands alone!

STURDY & SAFE PIECES!

Every single construction piece, screwdriver and wrench is made from BPA-free, non-toxic and skin-safe ABS plastic in order to keep your children safe!

DEVELOP ESSENTIAL SKILLS!

Help your kid develop hand-eye coordination, fine motor skills, creative problem-solving skills, communication skills and logical skills while having fun!
100% MONEY BACK GUARANTEED! We will refund you if you are not satisfied with your purchase for any reason.
THE TAKE A PART DINOSAUR TOY SET INCLUDES - 6 dinosaurs, 2 Trex dinosaurs, 2 Ceratops dinosaurs, and 2 brontosaurus, includes a set of 12 unique tools for assembly. 6 screw drivers and 6 wrenches, which can be taken apart and reassembled Unlimited a Total of 218 pieces.
THE MOST AMAZING GIFT TO ALL CREATIVE KIDS - Sturdy, quality made and competitively priced, our kids' Take apart set will make the perfect gift for all toddlers and young kids on all occasions! Offer it to your little angel, nephew, niece or grandchild or even to your imaginative pupils in the kindergarten or preschool and enjoy their ear-to-ear smile!
EDUCATIONAL STEM LEARNING - This Stem supported take apart toy set will develop their coordination abilities and creativity with puzzle solving, hand-eye coordination, and patience, It will Help them spend long happy hours playing alone or with their friends with the Mega ToyBrand premium take apart dinosaur 6 pack, This dinosaur toy will help put their little engineering minds to work
HOURS OF FUN TAKE APART & REASSEMBLE - The dinosaurs is made to be taken apart and reconstructed for hours of fun, Dinosaurs come assembled, Watch your child's excitement as they accomplish their goal and build up all 6 dinosaurs, they will be working hours to assemble this dinosaurs and to reassemble you will love seeing them being creative, they will not be interested looking into your smartphone or watching movies, They will just be Creative like never before