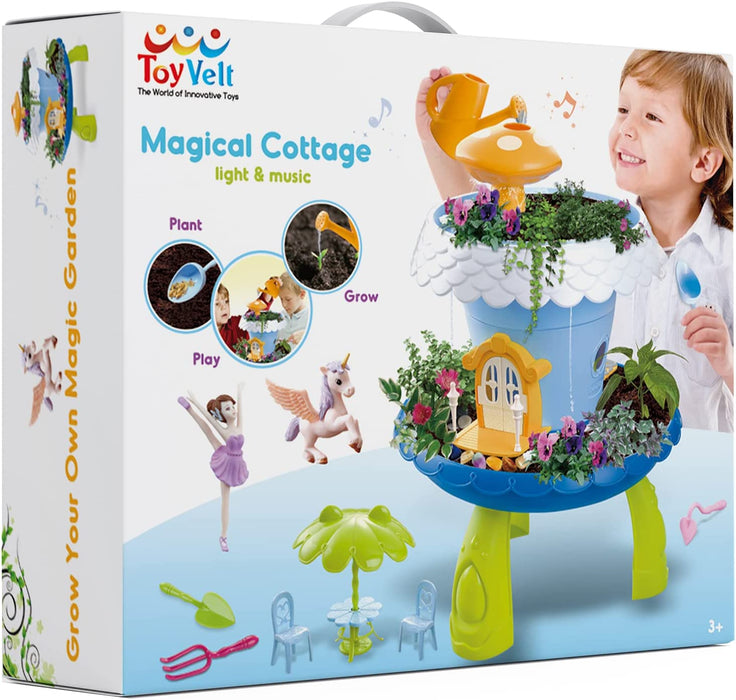 ToyVelt Fairy Garden Kit for Kids - Grow Your Own Fairy House with Soil and Seeds Plus 15 Exciting Accerioeroies with Music and Lights - The Best Fairy Garden Kit for Boys and Girls Ages 4 and up
WATCH YOUR MAGICAL GARDEN GROW with this starter fairy garden kit for kids, which will allow your child to plant his own seeds in the fairy garden house and proudly watch them to thrive and flourish in due time.
GET A COMPLETE GARDENING KIT FOR KIDS: Our cute kids gardening kit comes with soil, seeds, gardening tools and garden furniture - all your little gardener needs to start planting and watering right away!
HELP YOUR KID RELAX WHILE GARDENING: With soothing music and enchanting lights, our fairy garden kits for kids are irresistible. Press the power button on and watch the windows light up with inspiring light!
INSTALL YOUR CHILDREN GARDEN SET IN MINUTES: Our fairy garden kits for girls and boys are easy to set up in 3 simple steps. No more miniature fairies houses that give your troubles with complicated instructions.
SPOIL YOUR BOY OR GIRL WITH A MINI GARDEN SET: Thrill your kid with our educational gardening kits for kids offered as special gifts. Quality-made and colorful, they are the best gift idea for children aged 4+.