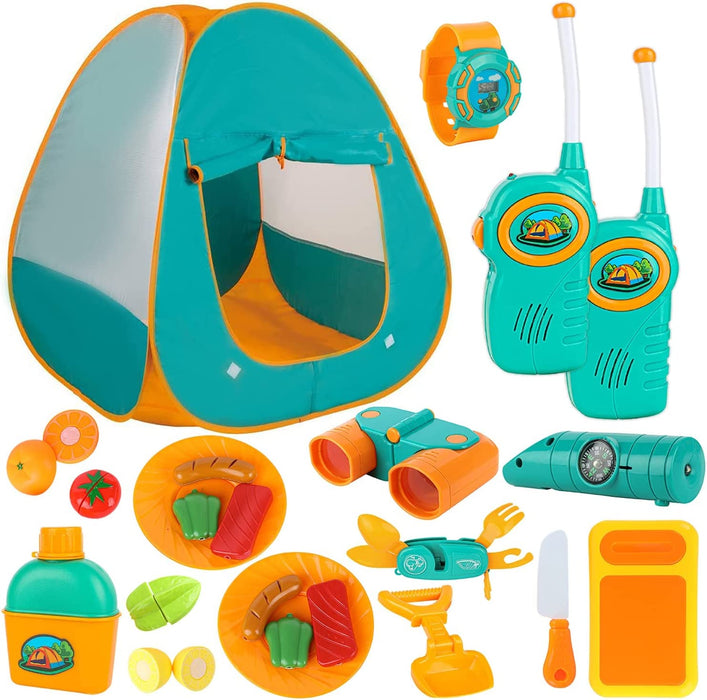 ToyVelt Kids Camping Tent Set with Walkie Talkies - Set Includes Tent, Telescope, 2 Walkie Talkies, and Full Camping Gear Set Indoor and Outdoor Toy - Best Present for 3 4 5 6 Year Old Boys and Girls
DOES YOUR KID LOVE OUTDOOR ACTIVITIES? This kids'camping set is the perfect toy for all those adventurous kids who love to explore nature! So if your child is a restless explorer, you should definitely give them this complete camping kit that includes a large 30 x 37" tent, 2 Walkie talkies, telescope, water bottle, shovel, multifunctional whistle, compass, flashlight, thermometer, Food and accessories Cutlery and plates and much more !
YOUR CHILD WILL GAIN SO MUCH KNOWLEDGE Thanks to the amazing Toyvelt camping equipment kit, since it includes all the necessary items and tools for campers and hikers!First of all, your child is going to learn how to build the kids tepee tent on their own. They will also learn how to use a telescope, and a thermometer. Your child is also going to understand how compasses work, and they will find out how to navigate without the help of technology!
THIS IS THE PERFECT SURVIVAL KIT FOR KIDS and it's going to help your child be fearless and inventive when they're camping or exploring nature. Your child will understand that when they're prepared and well equipped, they can do anything! For example, if it's dark, they can use the bright flashlight to guide them.In addition, they can use the walkie talkie and the multifunctional whistle to communicate with other campers that are far. As for the shovel, it will help them dig and find things!
ANY CHILD – BOY OR GIRL – WOULD WANT THIS SET AS A GIFT! So if you're looking for a gift for a little explorer in your family, this camping accessories are the best choice! The dream tent set for kids is not only and incredibly fun, but also an absolutely educational kit that can keep any child entertained for hours! Besides, what's not to like? All of the pieces of this amazing camping set may be toys, but they look very realistic and they function perfectly!
THESE CAMPING ACCESSORIES ARE BUILT TO LAST! Every single piece of this unique kid play tent set is made with premium materials and most advanced manufacturing processes. For this reason, we're very confident about our camping gear set for kids, and we're completely sure that your kid will have it forever! If there is something, ANYTHING that you or your child don't like about this camping tent set, we will refund every last penny.