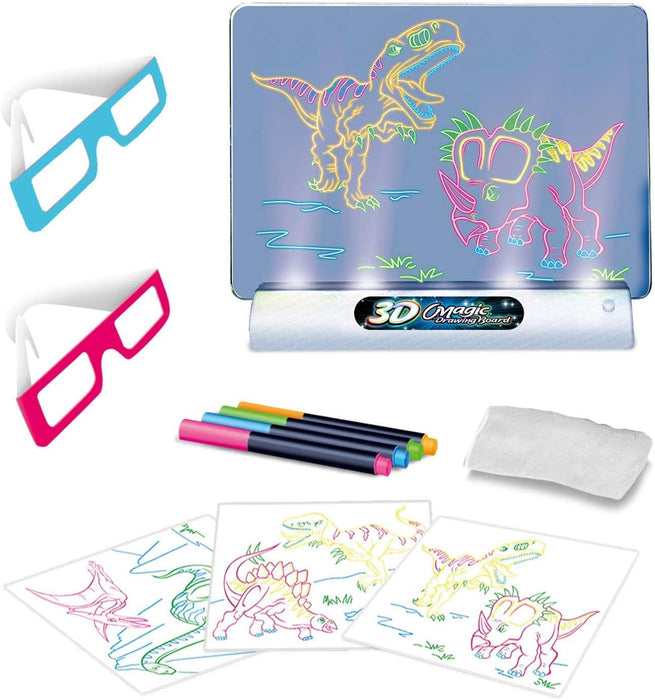 ToyVelt Light up Tracing Pad - Kids Magic Pad Light Up Drawing Board – Education Dinosaur Doodle Glow Tracing Pad with 2 3D Glasses - Gift for Kids/Toddlers Boys & Girls Ages 3 -12 Years Old
Let your kids express their creativity the fun way with our 3D drawing board set!
Having a hard time getting your kids involved in the world of arts and crafts? Children will do anything they find fun which is why we designed this dinosaur 3D drawing board set to provide your kids with a unique and entertaining way to draw stunning 3d dinosaur patterns!

Brings drawings to life
This 3d doodle board for kids comes with dinosaur pattern papers that let your kids easily draw gorgeous art while making sure they have fun and helps them improve their hand-eye coordination. With the 3d glasses, you'll be able to see the art they make as if it was real life!

Features you'll love
✓ Can easily be cleaned using the wipe cloth to reused
✓ Provides long-term use with proper care
✓ Can be used at home or when travelling to keep kids occupied
✓ Helps kids get involved in the world of art at a young age
✓ Glow pad drawing boards make great gifts for toddlers and growing kids
✓ Made using high quality, non-toxic and safe to use materials

easy & simple to use:
1. Remove the film from both sides of the drawing board
2. Either place a pattern paper on top or draw anything you want using the pens included
3. Inset the transparent plate into the base and turn the led lights on
4. Wear your glasses and marvel at the gorgeous 3d art you've made!

package includes:
1 × transparent drawing board
1 × board holding base
1 × wipe board cloth
2 × 3d glasses
3 × dinosaur pattern paper
4 × elastic-type highlighter pen

Click on theAdd to cartButton now to order today and get your kids a 3d drawing board that will keep them painting for hours!
Educational & fun: This 3d led drawing board lets your little ones create stunning 3D art on their own that looks just like the real thing! This erasable doodle pad is perfect for encouraging your children to take part in artistic activities, learn to draw and paint, improve hand-eye coordination and color perception along with so much more while making sure they have fun.
Everything you need: Our kids drawing pad is easy to use and comes with everything your kids need to get started. Each set includes a 3d drawing board along with 2 pairs of 3d glasses that let your kids view their drawings in 3d along with 3 dinosaur pattern papers, 4 highlighter pens, 1 wiping cloth, and 1 battery operated base.
Portable & easy to use: Whether you're going on a car trip or visiting friends or family, you can count on our glow pad to keep your kids occupied and entertained the entire time! It's super easy to use and makes for a great creative activity for kids. Simply draw on the transparent board, insert the board into the base, wear your glasses and turn it on to see the 3D image. The base lights up your drawings using 5 led lights. Requires 4 aaa batteries (not included).
A gift kids love: Our 3d learning and drawing boards are a must-have for any kid that likes to doodle or draw! It not only provides countless hours of fun and entertainment but also helps them explore their creativity making this a great gift for children of all ages. It makes the perfect gift for almost every occasion for including birthday, christmas, new year's and more!
100% Customer satisfaction: We make customer satisfaction our top priority. This is why we take the time to make our portable led 3D drawing board both safe to use and incredibly fun. We're confident that you and your little one will love this magic pad which is why we offer a 30 day customer satisfaction so that you can order today with confidence.