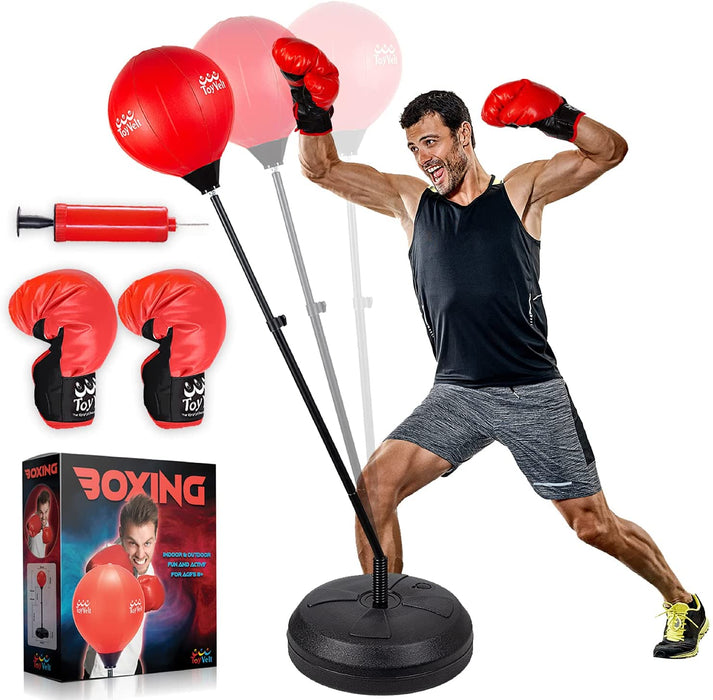 ToyVelt Punching Bag for Kids and Adults Boxing Set with Adjustable Standing Base, Boxing Gloves, Hand Pump - Kids Punching Bag for Boys and Girls
About this item
🥊【 #1 Reflex Bag 】 – Unlike other punching bags that are rigid, heavy and hard to use, the Toyvelt Punching Ball and stand are made of heavy-duty materials & a spring-mounted bag that bounces back at you after being hit. This helps develop optimal reflexes and precise striking!

🥊【 Adjustable Height 】– Our free standing punching bags are 100% height adjustable 48 inches to 58 inches for people of all ages, sizes and lifestyles. Adjust the speed bag effortlessly and quickly for any user. Perfect for men, women & teens ages 8 and up!

🥊【 Ultimate Boxing Equipment Set 】 – This punching bag set comes with everything you need to start boxing, training and improving your fitness! You will love the inflatable punching ball, water-fillable base, spring-loaded adjustable pole, pair of boxing gloves & convenient pump that are included with your order!

🥊【 Perfect for Any Exercise 】– Whether you are casually working out, training for MMA, building a home gym or speed/endurance training the Toyvelt Punching Bag is perfect for you! It's versatile durability and ultimate construction ensures it will always perform no matter what level of skill you are.

🥊【 Unbeatable Quality & Premium Materials 】 – This free standing punching bag set will last you for years to come! It features only the highest quality materials that can withstand even the hardest impact. Get yours today!